Black Tiger Sex Machine is back and better than ever with the futuristic soundscapes of their latest album, Once upon a time in cyberworld.
---
One of the trios in the dance music scene that continues to wow fans with every release and performance is black tiger sex machine. These Canadians have dominated the hearts, minds and souls of many in the bass music scene with their mind-blowing albums. new worlds and futuristic thrillerand now they are back with their third album Once upon a time in cyberworld.
Available now on all platforms via Kannibalen, Once upon a time in cyberworld continues with dystopian cyberpunk thematic elements and offers surreal soundscapes for listeners to experience across its 12 tracks. Talking about the creation of the album, Black Tiger Sex Machine explained, "Every time we make an album, it's not just a collection of our newest songs. We always try to design each piece as part of the larger dystopian universe we're building with not just the music but also the visuals.
The trio accomplished this mission in style with a few additional artists joining the ranks of the BTSM army, stating "We were blessed to have so many talented collaborators, more than ever before, who came into our world and enriched it with their stories and creativity." In fact, all but one piece on Once upon a time in cyberworld sees Black Tiger Sex Machine teaming up with another artist to create the magical chapters found in its execution.
Songs like "front man" with ATLinks"I can not stop" with WODand "death tracker" with YOOKIE provide plenty of warmth that will energize listeners and have them dropping it all on the dance floor. Although these tracks are bass vibe focused, there's a lot of diversity as well in others like "Utopia" with YMIR"Somnambulist" with Ryan Perdzand "Wild children" with Young. These three deliver a touch of electro house into the mix to really get the bodies moving to the beat as the final track, "The Devil's Tool"brings booming cinematic elements into play.
As each piece stands alone, Once upon a time in cyberworld is best listened to from start to finish to truly immerse you in the dystopian cyberpunk world created by BTSM. And with performances at upcoming festivals such as Ubbi Dubbi, EDC Mexico, Ultra Miami and Bonnaroo, you simply won't want to miss your chance to hear the sounds of this album live.
to listen Once upon a time in cyberworld on Spotify or your favorite platform, and stay tuned for more from BTSM in the future!
Stream Black Tiger Sex Machine – Once upon a time in cyberworld on Spotify:
---
Black Tiger Sex Machine – Once upon a time in cyberworld – List of tracks:
Pioneer (ft. Macntaj)
Utopia (ft. YMIR)
Leading Man (with ATLiens)
Sleepwalker (ft. Ryan Perdz)
Cheatcode (ft. Hyro The Hero) (with Hairitage)
I can't stop (with WODD)
Prayers (ft. Wasiu) (with Kai Wachi)
Wild Children (ft. Youngr)
Deathstalker (with YOOKiE)
Karma (ft. Dread MC)
Leaders (ft. Alborosie)
The Devil's Tool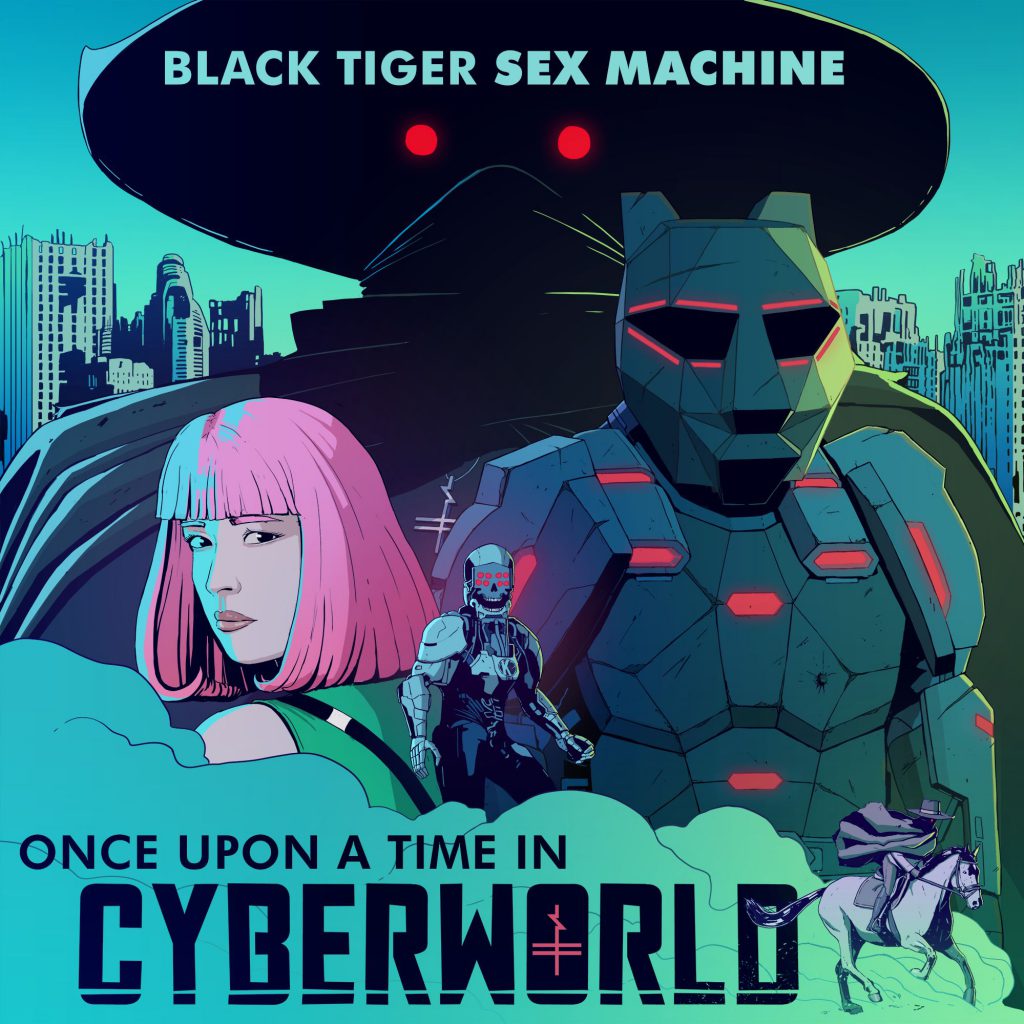 ---
Connect with Black Tiger Sex Machine on Social Media:
Website | Facebook | Twitter | Instagram | SoundCloud | YouTube | Tic